International number:
+64 3 443 7922
Ph within NZ:
(03) 443 7922
Mobile and Whatsapp:
+64 (0) 27 443 7921 or +64 (0) 27 588 3073
Postal:
PO BOX 101
Wanaka 9343
New Zealand
For Bookings/Trip Info:
trips@deepcanyon.co.nz
For General Business:
jump@deepcanyon.co.nz
Web:
www.deepcanyon.co.nz
Office Location:
The Deep Canyon office is at 100 Ardmore Street. See the map alongside. Come in and chat to us.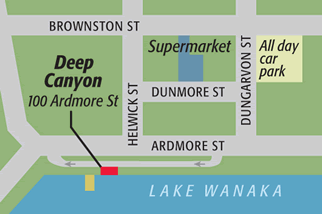 Deep Canyon Travel Connections
All trips depart from Wanaka between 7.30 - 9.00 a.m. each day
Canyoning departs from Deep Canyon Office, 100 Ardmore Street.  (The Log Cabin on the waterfront, across from the main row of shops)
Canyon trips return between 5.30 - 7.30 p.m. each day
Queenstown-Wanaka Travel Connections
(see the links page for rental car or shuttle options)
Directions, 2 alternative routes can make a fantastic round trip, dine out on the return trip.
Queenstown to Wanaka
via Crown Range Route 89

64 km allow 1hr 10 min drive time
Very scenic route, road is a sealed pavement many corners and reaches an elevation of 1200m

Queenstown to Wanaka
via Cromwell State Highway 6 then from Cromwell State highway 8

115 km allow 1hr 30 min drive time
Take the main highway from Qtn to Christchurch through the Kawarau Gorge at Cromwell select the route to Wanaka.