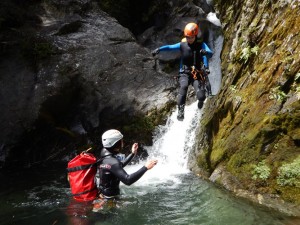 Our guides are certified under the NZOIA* Canyon qualification framework [some guides may have further overseas based qualifications].  This is a New Zealand specific programme and Deep Canyon is actively involved in setting the standards for the programme.
Most of our guides are also qualified and experienced in other related outdoor activities.
If you wish to apply for work at Deep Canyon for the 2017-18 summer season, please download application form.
deep-canyon-employment-application-form-17-18
*New Zealand Outdoor Instructors Association


Guides: Dan, Jeremy, Matt, Rita, Chris & Renee
Daniel

Dan (Chucky) is the head honcho. Dan has canyoned for 11 years in 9 different countries, but he most enjoys exploring for new canyons right here in New Zealand. He was a member of the NZ Canyon Team expedition in early 2015 and has done over 40 first descents here. Dan has plenty of experience managing staff in technical work environments where safety is a priority.  He lives in Wanaka year round and recently published the first guidebook to Canyoning in New Zealand as well as being a contributing author to the first Canyoning Technical Manual for New Zealand Conditions. Dan is the president of the NZ Canyoning Association and is well known and liked in the canyoning community. We are stoked to have him lead the crew at Deep Canyon.

Jeremy

Jeremy has been working and playing in the outdoors for the last 18 years, as a sea kayak guide, adventure therapist and alpine elevation technician. When not in a canyon Jeremy loves snowboarding, mountain biking, white water and sea kayaking, and is always up for an adventure! Jeremy has a Bachelor's Degree in Adventure Recreation & Outdoor Education. He's a qualified Canyon Guide with the NZOIA Level One Canyon Award.  He loves to share adventures with people of all ages & walks of life in the outdoors. This is his third season with Deep Canyon.

Matt

Matt. Matty. Matthew (if you're his mum). Our seasoned outdoorsman Matt began his adventurous life on New Zealand's North Island and hasn't sat still much sense. He has a diploma in adventure tourism and the resume, qualifications, and airline miles to back it up. Matt has been canyoning for seven years and has spent the last five seasons canyon and raft guiding in Switzerland. For Matt, there is no off season! Alternating between the northern and southern hemispheres, he chases an endless summer of canyoning, rafting, trekking, mountain biking, and other outdoor adventures for work and play. He's adventured in Italy, France, Peru, Chile, Australia, and Nepal, to name a few, and if you ever find him slowing down it would be to unwind after an epic day, enjoying the sunshine and the view with a refreshing brew.

Rita

Rita joins us this season after extensive guiding throughout Switzerland, Italy, and Austria. Having canyoned all over the Alps of Europe, she's ready to tackle New Zealand's Southern Alps! Originally from Austria, mountains and adventure are in her blood, and when she's not canyoning, you're likely to find her mountain biking, rafting, kayaking, skiing, or climbing. She is also a raft guide and high ropes trainer, and when she gets a chance for a break, she's jetting off to explore new places. So far she's been through Chile, Argentina, the States, and Nepal…ask her where she's off to next!

 

Chris

Chris is a keen outdoors man hailing from the rugged West Coast, where he was previously a glacier guide and worked for the Department of Conservation. He came to Wanaka and literally jumped into Deep Canyon! Chris is returning for his second season in the fun outdoor office that the world-class canyons of Wanaka offer.

Chris and his partner are out and about all year round– skiing, climbing, hiking, canyoning, mountain biking, you name it– until they're knackered enough to sit back and relax at home with a good book and their lab/retriever pup.

Renee

Renee is returning for her second season guiding with Deep Canyon here in New Zealand after previous canyon guiding in Australia's Blue Mountains. During the winter Renee hits the slopes! You'll find her up in the mountains working as a ski patroller and skiing as much as possible. Renee loves all things outdoors, and thinks Wanaka has it all – rock climbing, mountain biking, canyoning, skiing, awesomeness! She is stoked to be paid to do what she loves.

 

Owen

Owen joins us this season in between guiding seasons in Switzerland, where he leads canyon and rafting tours. Originally from Manawatu on New Zealand's North Island, Owen grew up on a dairy farm, where he fine-tuned his laid-back personality and humor, as well as his taste for country music. Owen was drawn to Wanaka because the place is like a "lolly shop for the outdoors," a million opportunities to get outside and play. When he's not guiding, he's still canyoning for the love of it, as well as kayaking, paragliding, or rafting! Fun fact: Owen has worked on every continent except Antarctica. It's only a matter of time before there's canyoning there, right?

 

Bryce

When we say Bryce knows the ropes, we mean it. With a background in industrial abseiling, Bryce is well used to climbing in tricky and high situations! This has translated well into canyoning, where instead of climbing up, he's helping clients down steep descents into the canyons and through raging waterfalls. He's a guiding pro, having previously glacier guided on the West Coast. In his spare time, Bryce is a training machine–running, biking, and kayaking to prepare for the notorious GODZone Adventure Race. He puts us all to shame when we race paddle-boats (yes, we at Deep Canyon enjoy team building exercises, too), and his kebab BBQ-ing skills are second to none. Bryce is an awesome addition to our team this year.
Dave

Dave is the owner and has been since starting the company um, way back – when it was the first and only one. Dave has tons of recreational and professional experience in ice, rock and mountain climbing, caving, river trips, rope access work, search and rescue and a few other things besides. More recently it's been freediving. Oh, and of course canyoning in which he is a pioneer of the NZ canyoning scene with lots of exploring and first descents. He is an assessor on the NZOIA canyon guides programme.  Dave is currently taking a back seat from guiding but is acting as a knowledge bank for Deep Canyon guides and staff.
Ros

The shadowy figure behind the scenes, without whom things would – well who knows what anarchy would reign at Deep Canyon without Ros! Having moved on from guiding, Ros is now the brains of the operation – the wonder-woman of the show. All hail Ros!

 

Sarah

Back at HQ, Sarah manages the office and bookings, welcoming you when you pop by our office in Wanaka's lakefront Log Cabin, or working with you online to plan your canyoning trip. A world traveler, Sarah has lived throughout New Zealand, Japan, and most recently Canada, but she's returned to her hometown of Wanaka (a real local!) and we're happy to have her join us this season. A keen mountain biker and climber, you might spot Sarah's blonde ponytail flash by on the Sticky Forest trails or spot her part-way up the face of Mt. Iron!
Whitney

Whitney is the part-time office manager for Deep Canyon, and will be one of the friendly faces greeting you when you either book or set off for your canyon adventure. She also helps manage our social media streams and will be watching for the photos you post from your trips! Though she's new to the team this season, Whit's no stranger to living it up in the great outdoors, soaking up every opportunity to run, hike, bike, or find new ways to explore Wanaka's beautiful surroundings. With a background in filmmaking, she's keen to capture the amazing landscape and hear the colorful stories of locals and travelers alike.